The Liberty High School Fall Athletic Banquet will be held on Thursday, December 2nd at 6:30 in the main gym at Liberty High School. All fall athletes need to contact their coach for banquet information.
To all who have served, and those who continue to serve, THANK YOU!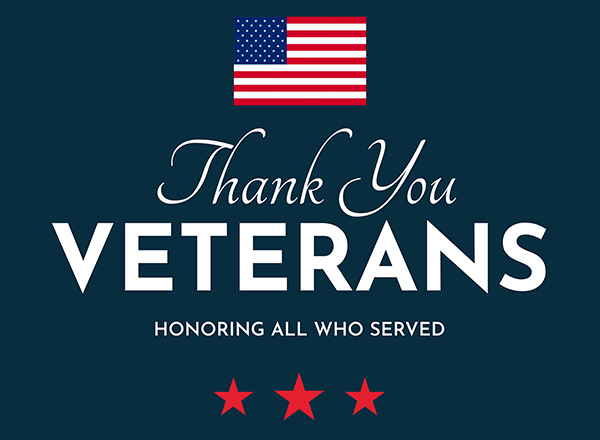 Seniors interested in pursuing a career in Education are invited along with their parents to a zoom meeting about the 2022 Teaching Fellows application. This meeting will offer pertinent information to any senior about a $24.000 Fellowship for student who plan to major in education. The meeting is limited to 300; so, please register ASAP! Register in advance for this meeting:
https://winthrop-edu.zoom.us/meeting/register/tZArdemqqzIrG9J6SlatfmbhLW3Ss4qvpMPJ

Reminder: As scheduled on the 2021-22 school calendar, there will be no school on Monday, November 1, 2021. Enjoy the long weekend! 🎃 🍁 🍂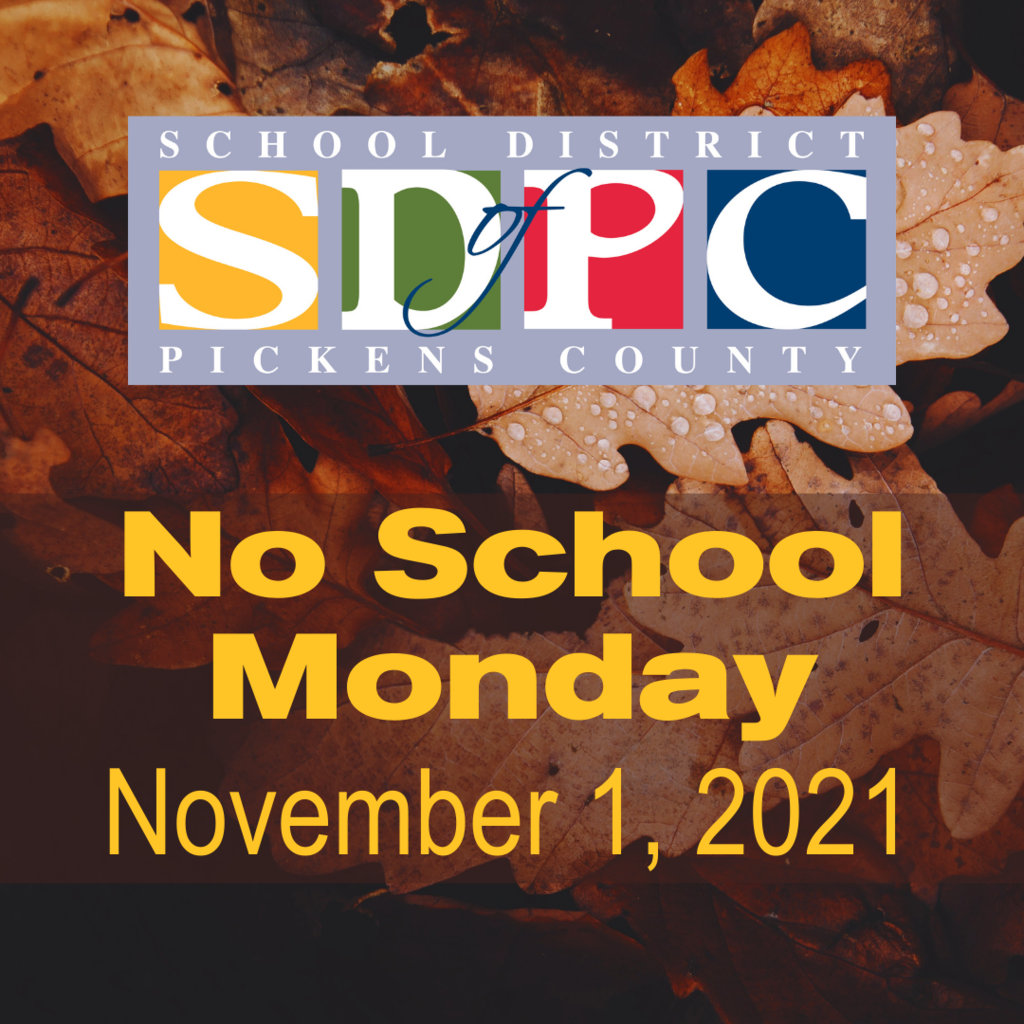 Girls Basketball tryouts begin on Monday, November 1 at 8:30 am. Any girl planning on trying out for Girls Basketball, you must have a physical completed and uploaded to PlanetHS.com prior to Nov. 1. If you need help uploading your physical, please see Coach Thomas. Also, all girls that are trying out for Girls Basketball need to stop by Coach Thomas's Room (room 417) to pick up a schedule for the week of tryouts.
LHS Car Bash -Sponsored by BETA Club Fundraiser for March of Dimes Friday 10/22/2021 4pm -7pm Please come and support! $5 for 6 hits $1 for 1 minute of spray paint
Liberty High School College Application Day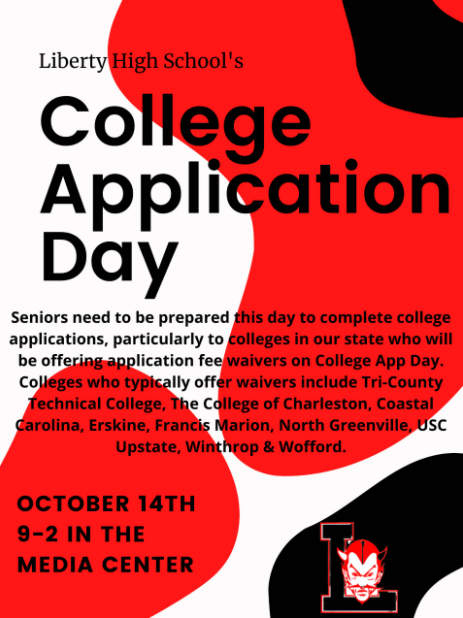 Seniors - if your family needs help completing the FAFSA which opens on Oct 1, TCTC offers help!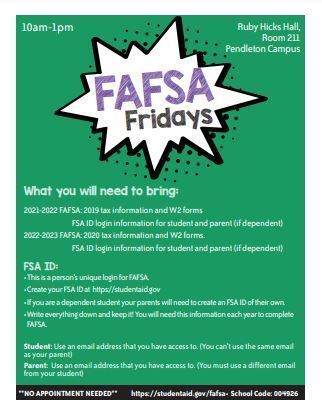 Attention Seniors: If you have not yet had your senior yearbook photo taken, please to do so using the link posted to Schoology. The date is November 4th, and this will be the last opportunity to have your photo made. Please contact Mr. Patterson if you have any questions.
The SAT Test will be given at LHS on October 28th during the School Day. For students planning to attend a 4-Year college, this test will help colleges make admissions decisions when you apply. This is the same test that is often given on Saturdays at neighboring schools. The test can be taken multiple times throughout your high school career, and students are encouraged to take the test more than once, as oftentimes students improve their scores the more times they take the test. The test is open to any High School Student. Students must register by Friday, September 24th at 12:00 pm The Cost is $55.00 and you will be contacted to pay after your spot has been confirmed. If you have questions, email Coach Canterbury-
patrickcanterbury@pickens.k12.sc.us
- or call him at 397-2600, ext 2671.
https://forms.gle/Tzo896Fx54DqMR5V7

SDPC JOB FAIR Thursday, September 30, 2021 1-7pm Pickens County Career & Technology Center 990 Chastain Road Liberty SC, 29657 Join SDPC for our Job Fair on September 30. We will be interviewing candidates on site for positions including Teachers, Custodial Staff, Food Service Staff, and Grounds Crew. Those interested should apply at
www.pickens.k12.sc.us/page/join-our-team
(if unable to complete application prior to job fair, Chromebooks will be available to complete the application on site).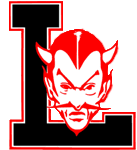 Attention Parents: Senior ads for this year's yearbook are now on sale. You can purchase and create an ad by visiting jostens.com/yearbookads. Paper copies will be mailed home sometime next week. Please contact Mr. Patterson (
ryanpatterson@pickens.k12.sc.us
) if you have any questions. The first deadline is October 15th.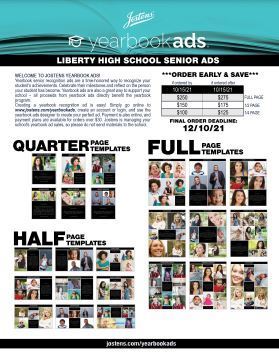 LHS Seniors, please sign up.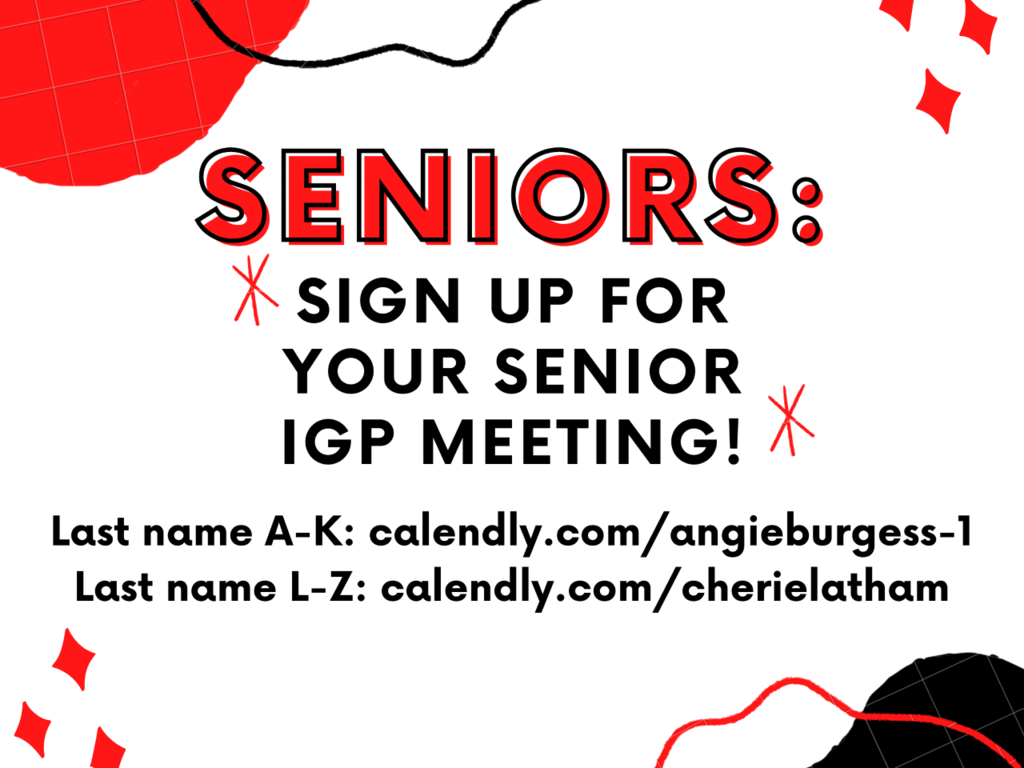 LHS Spirit Week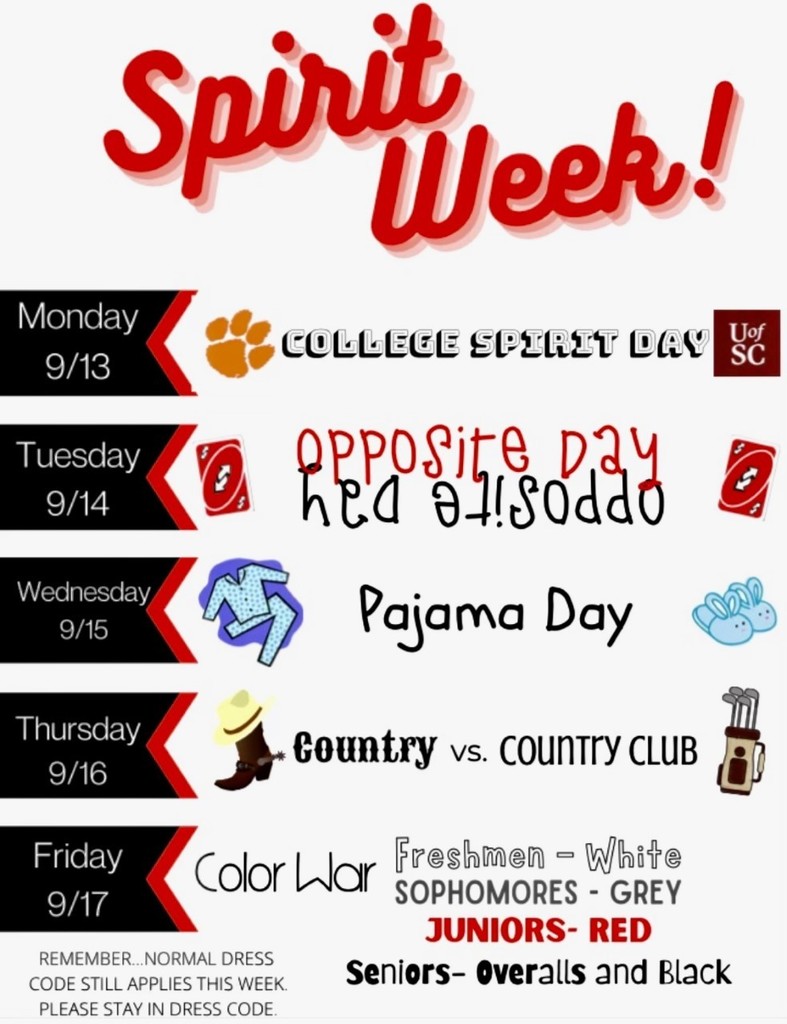 The PSAT/NMSQT will be given at LHS on Wednesday, October 13. This is great practice for further standardized testing for any Junior who is planning to go straight to a four-year college following graduation or for any Honors Freshman or Sophomore who would like practice in preparing for the SAT. The cost is $17.75. Please complete the form at the link below no later than Tuesday, September 14 in order to reserve your spot.
https://forms.gle/VrpgDZofUc2ikE9UA
The $17.75 cost will need to be paid by going to the MY SCHOOL BUCKS SCHOOL STORE by clicking the link below.
https://www.myschoolbucks.com/ver2/prdembd?ref=00GLC10TP2O2VR1_ZZFKBDRVTIRUDY9
If you have questions, email Coach Canterbury -
patrickcanterbury@pickens.k12.sc.us
- or call him at 397-2600, ext 2671.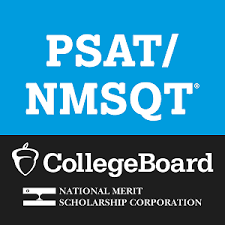 Liberty High School ASVAB Testing
Please come out and show your support to LHS JROTC.